Regular price
Rs 120.00 SCR
Regular price
Sale price
Rs 120.00 SCR
Unit price
per
Sale
Sold out
Our wooden hairbrushes is ideal for wet and dry brushing, and suitable for various types of hair style We love it because it is completely made of wood, from the beech wood handle to the lotus wood bristles. The bristle tips are also made of wood, soft and flexible, hence really gentle on your scalp and effortless useful for detangling hair. With a portable size, the wooden hairbrush is also travel friendly.
For Healthy Hair and Scalp
Our wooden hair brushes promote hair and scalp health by distributing natural oils and bringing out a balanced, natural shine while brushing and styling your hair. Treat your hair with soft and flexible bristles that gently stimulate hair growth and lessen breakage!
Works On All Hair Types
Designed to ensure ultimate comfort with ergonomic wooden handles and soft, dual-fibre synthetic bristles, this hair brush set is perfect for any hair at any length, texture or thickness. Whether you have fine, thick, curly, straight, long or wet hair, enjoy effortless detangling, blow drying and styling!
Professional Salon Tools
With three pro hair tools, crafted with high quality materials, our hairbrushes are loved by hairstylists and beauty lovers alike! Get effortlessly detangled hair, create a bouncy blow dry or create a sleek combed out look with our versatile brush set!
How to Clean a Wooden Hairbrush
It is necessary to regularly clean your wooden hair brush since you normally brush hair more than twice a day.
Remove any hair left over in the brush every time after brushing.
One way to clean a dusty wooden hairbrush is applying flaxseed oil to the brush, and use a damp kitchen towel to gently wipe the brush after the oil is dry.
If your brush is very dirty, submerge it into warm water for three to five minutes and clean it with mild soap.
If needed, using a worn-out toothbrush to scrub your hairbrush to remove dirt and debris in-between the bristles.
Remove excess moisture and hang to air dry.
Remember to avoid storing a wooden hairbrush in any place with too much moisture.
To sum up, using a wooden hairbrush has a lot of benefits for your scalp, reducing dandruff and hair breakage, and making your hair static-free, tangle-free, glossy and silky shiny. Also, natural hair brushes make your daily haircare more sustainable and eco-friendly. To purchase a best wooden hairbrush, consider the two options from Greenliving, which are of durable quality, and easy to clean and maintain. 
Share
View full details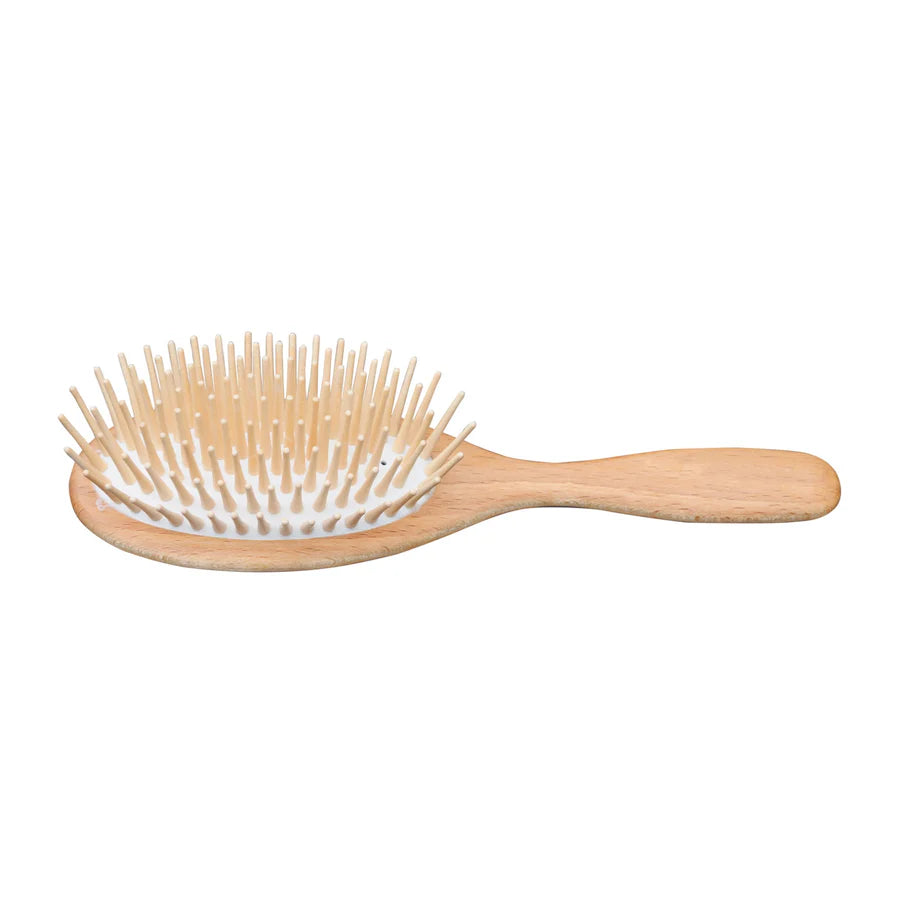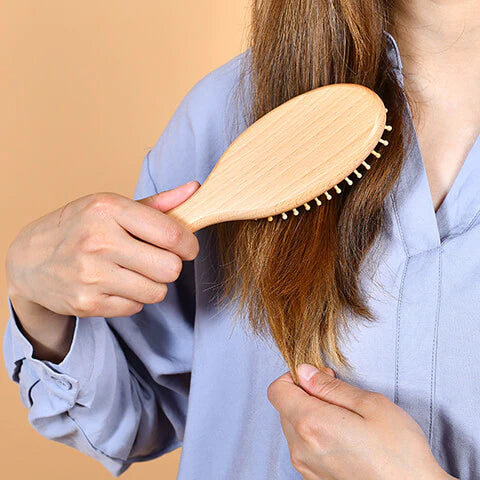 Endless work...
We relentlessly build astonishing products with amazing ingredients at honest prices allowing everyone in the world to enjoy a better life.
Our Logo
The brand name Mahe Bleu was inspired by Mahé Island and Seychelles' infinite sky and ocean. Our graphic logo Coco-de-Mer which was originated in the Seychelles. "M" on the top stands for "Mahé sland", "B" below stands for "Bleu".