Regular price
Rs 65.00 SCR
Regular price
Rs 120.00 SCR
Sale price
Rs 65.00 SCR
Unit price
per
Sale
Sold out
Rich in Vitamins & Minerals
Mahe Bleu® Kale Powder provides the body with vitamins and minerals as if you were eating fresh vegetables or fruits. The 100% freeze-dried organic powder can be used to create drinks, soothes, purees, soups…
Easy to use on a daily basis, it is 100% natural, as well as many other virtues!
100% Kale – Our organic kale powder starts out as USA grown, fresh, whole kale leaves. They are immediately frozen after harvest then dried through a cold freeze-drying process. As the final step, they are ground to a fine powder and packaged.
PREMIER QUALITY -We take great pride in being able to offer the highest quality kale powder in the world that is:100% pure, raw, organic, non-GMO, Kosher, certified Vegan, fluent-free. It is free of pesticides, herbicides, chemical fertilizers, fillers, solvents and additives.
NUTRITION -This fine Kale powder is rich in vitamins, minerals, fibers and fatty acids. It contains more calcium than milk, more Iron than beef. It also contains more omega-3 & 6 fatty acids, iron, fiber, magnesium, folate, sulfur, zinc, protein, calcium, and vitamins A, C, E and K. Just 2 servings a day gives you the vitamins you need in a day.
HEALTH BENEFITS - Adding our kale powder to your diet is one of the smartest health choices you can make. As one of the top superfoodsin the world, it will provide support to nearly every single organ and bodily function in the body. Some of the benefits include: improve our digestive system, lower cholesterol, body detox, maximize vitamin and mineral uptake, cardiovascular & immune support, maintain healthy metabolism.




SIMPLE PROCESS –We start with organic kale grown in the USA. It is harvested - Washed - Frozen - Freeze-Dried – Powdered
KALE KALE KALE!
Hollywood Secret - Add all ingredients to a blender. Blend until smooth.
GREEN MANGO SHAKE
INGREDIENTS: 3 g kale powder, 1/2 banana, 1/2 mango, 10 cashew nuts, 100 ml Greek yoghurt, 250 ml water, 1/2 tsp turmeric
GREEN SHAKE
INGREDIENTS: 3 g kale powder, 250 ml natural yoghurt, 125 ml water, 2 slices of fresh pineapple
INGREDIENTS: Organic Freeze-Dried Kale
Best kept in a cool, dry place
Proudly Distributed by Mahe Bleu® 
Nutrition Facts
20 servings per box
Serving size                           0.1 oz (3g)
Amount Per Serving                          
Calories                                        3
%Daily Value*
Total Fat 0g                                 0%
  Saturated Fat 0g                       0%
      Trans Fat 0g
Sodium 5mg                               1%
Total Carbohydrate 3g                1%
    Dietary Fiber 1g                      11%
    Total Sugars 0g                        0%
       Includes 0g Added Sugars    0%
Protein 1g                                    4%
Share
View full details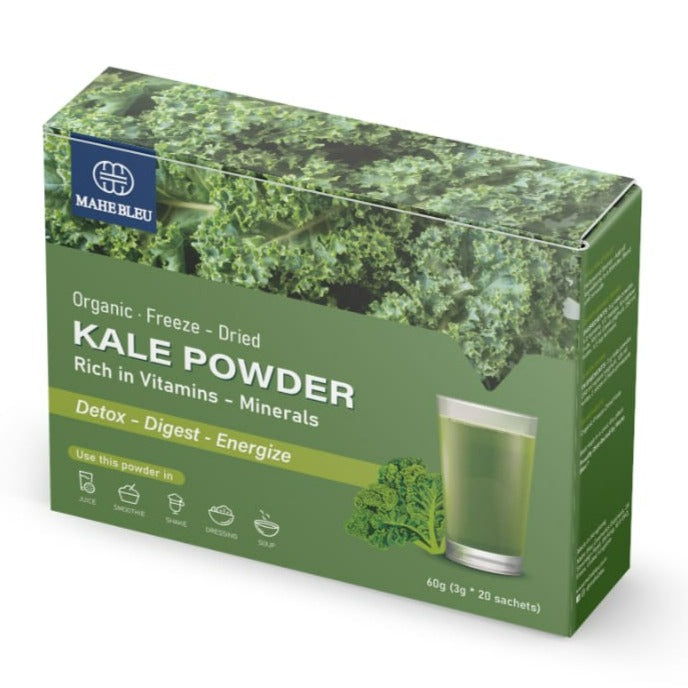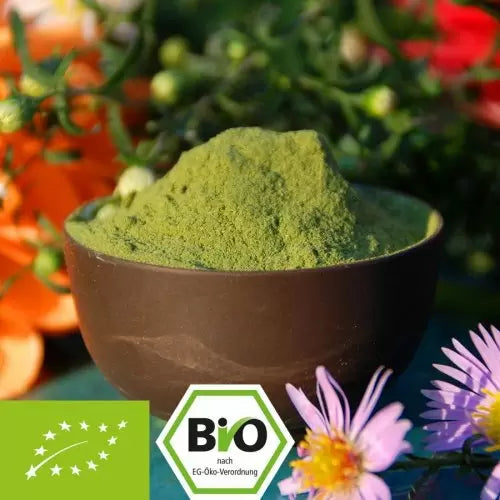 Endless work...
We relentlessly build astonishing products with amazing ingredients at honest prices allowing everyone in the world to enjoy a better life.
Our Logo
The brand name Mahe Bleu was inspired by Mahé Island and Seychelles' infinite sky and ocean. Our graphic logo Coco-de-Mer which was originated in the Seychelles. "M" on the top stands for "Mahé sland", "B" below stands for "Bleu".